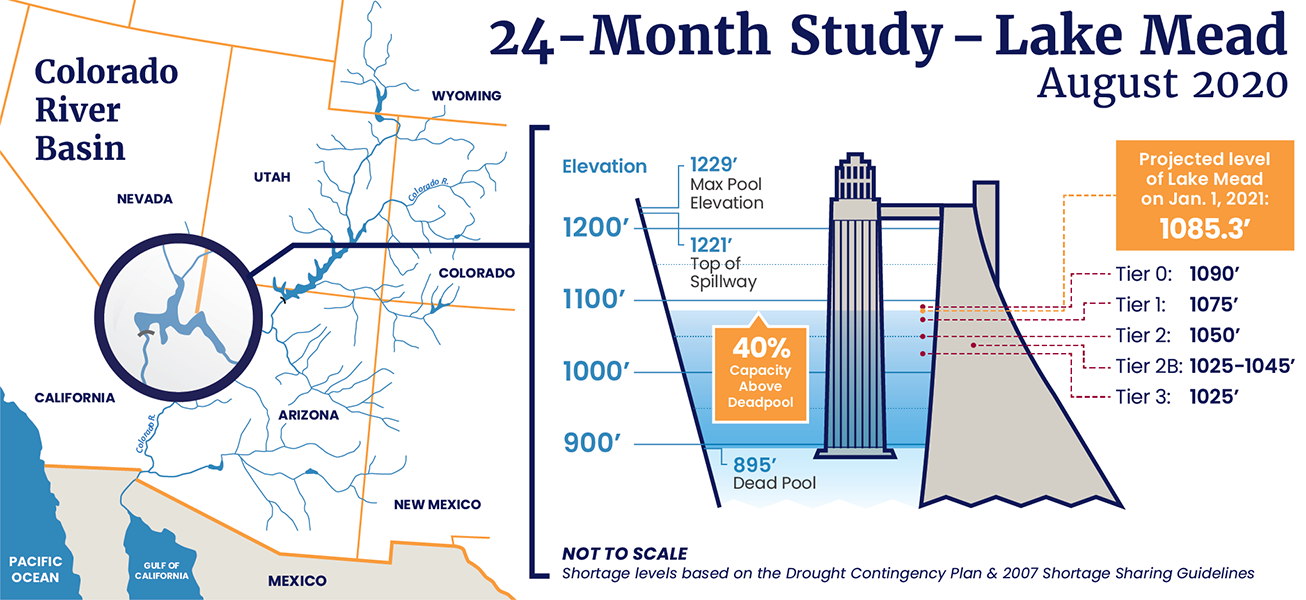 The U.S. Bureau of Reclamation has issued its August 24-Month Study. The purpose of this study is to project the year-end elevation of Lake Mead, which in turn determines the 2021 Lower Basin water supply conditions for CAP. BOR projects the Lake Mead elevation will be 1085.3' on Jan. 1, 2021, which signals the Tier Zero supply of Colorado River water will continue for 2021.
Under Tier Zero, CAP's water supply will be reduced by 192,000 acre-feet. This represents about a 12% reduction to CAP supplies. The Tier Zero reduction impacts CAP supplies previously available for underground storage, banking and replenishment. In addition, the reductions will likely reduce CAP agricultural uses by about 15%. While the word "reduction" is never popular, the fact that in 2021 Lake Mead will again operate in Tier Zero status shows that DCP is working to stabilize the reservoir from experiencing deeper shortages.
The August 24-Month Study also shows, in the most likely projection, continued Tier Zero conditions in 2022. However, due to hot and dry conditions across the Colorado River basin, the risk of a deeper reduction under Tier One shortage has increased for 2022. The reductions under Tier One are almost three times larger than Tier Zero. But thanks to the continued hard work across the Arizona water community, including the mitigation programs implemented through the Arizona DCP framework, we are prepared to manage Tier One reductions if they occur. 
NOTE: This new graphic depicts the results of the August 24-Month Study. You'll see a similar graphic in April 2021 when that 24-Month Study is released, focusing on the release from Lake Powell to Lake Mead.
Designer's Note by Travis Dins – Shown is Lake Mead's location in the Colorado River Basin, Hoover Dam (the site where water elevations are measured) and water shortage tiers as determined by the 2007 Shortage Sharing Guidelines and the Drought Contingency Plan. Hoover Dam is iconic, so recreating its massive intake tower to give visual perspective to the projected elevation in relation to the landmark. Equally as important was showing the natural slope of the lake to communicate that as elevation recedes, the amount of water is reduced, as well.