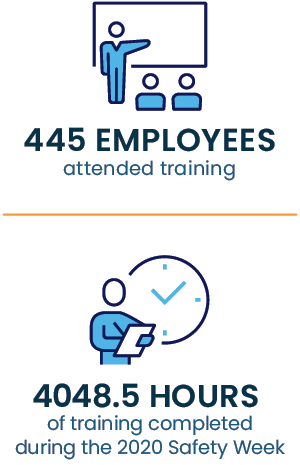 Rosie the Riveter was a cultural icon of World War II, representing millions of women who worked in jobs vacated by men who were drafted into military service for our country. These women were crucial to the war effort and two "Rosies" recently shared their work experience with more than 400 CAP employees at our annual Safety Week.
The women recounted the physical demands and risk of injury inherent in their work and the dramatic evolution of safety practices since the 1940s. Nowhere is the evolution of safety more evident than at CAP. Keeping employees safe at work and at home is our first priority.
CAP hosts Safety Week, an annual event that is filled with required and elective safety-related classes ranging from CPR/first aid and crane rigging to bee awareness and personal safety.  This year, CAP's employees attended more than 4,000 hours of training during the week, all focused on improving safety at work and at home.
CAP is a member of the Occupational Safety & Health Administration's (OSHA's) Voluntary Protection Program (VPP), a designation we first achieved in 2006. It is OSHA's official recognition of outstanding efforts of employers and employees who have achieved exemplary occupational safety and health.
CAP employees are proud to deliver a reliable, consistent water supply cost effectively and believe making safety our first priority is critical in accomplishing that goal. Watch CAP employees working safely.