Spring break is made for blooming buds, glorious weather and hitting the trails.
What does recreation have to do with Central Arizona Project (CAP)?
There are stretches of public trail alongside certain areas of the CAP canal that are open to multiple non-motorized recreational uses like walking, jogging, cycling and equestrian adventures.  If you live in central or southern Arizona, there are likely open areas of trail a reasonable drive away. Help yourself.
But first, here's how we help — we've developed printable maps so you can pick your next trek.
See below (click on each title to view):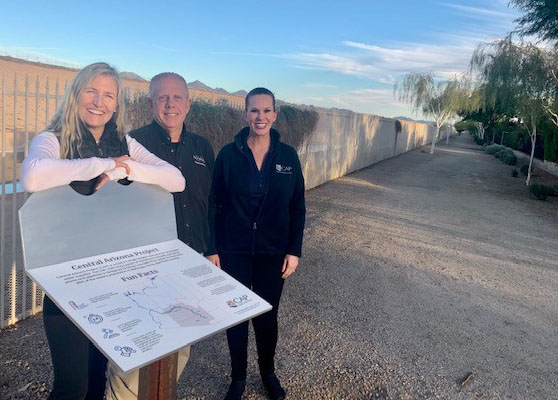 You can enter this trail at the western end of the Reach 11 Recreation area.
Once at the 56th Street intersection, check out the new interpretive CAP Trail sign pictured above. In Nov. 2022, Alexandra Arboleda (pictured at left), now the CAWCD Board Vice President, unveiled the sign that includes fascinating facts about CAP. Also pictured is CAP Land and Survey Department supervisor Tom Fitzgerald (middle) and CAP Senior Stakeholder Outreach Coordinator Tammi Watson (right).
The stretch is approximately 7 miles.
The Pinal/Pima County line marks the start of this trek that heads southeast along the canal — about 8 miles. As of the publishing of this post, there has been active construction around Tangerine Rd. so please use caution in this area.
This roughly 9-mile trail crosses by the Deem Hills Recreation Area – watch out for the steep hill!
This stretch begins near CAP's Red Rock Pumping Plant, which lifts water more than 200 vertical feet! Trail is about 9 miles.
You can enter this 7-mile trail at the western end of the Reach 11 Recreation area.
See more information, including a full map of the CAP Trail.
The CAP Trail can continue to grow with more developed stretches thanks to partnerships with municipal, county and tribal agencies.
For now, celebrate spring break by printing out one of these maps and hit these canal-side segments of trail with friends and family.