Even a virtual environment couldn't keep the CAP Board's next strategic plan from completion. At its December board meeting, the Central Arizona Water Conservation District Board of Directors unanimously approved a new Strategic Plan.
The process to develop the Plan began in late 2019 and included Board interviews and retreats, stakeholder forums and employee surveys. More than 35 organizations participated and provided input into the strategic planning process.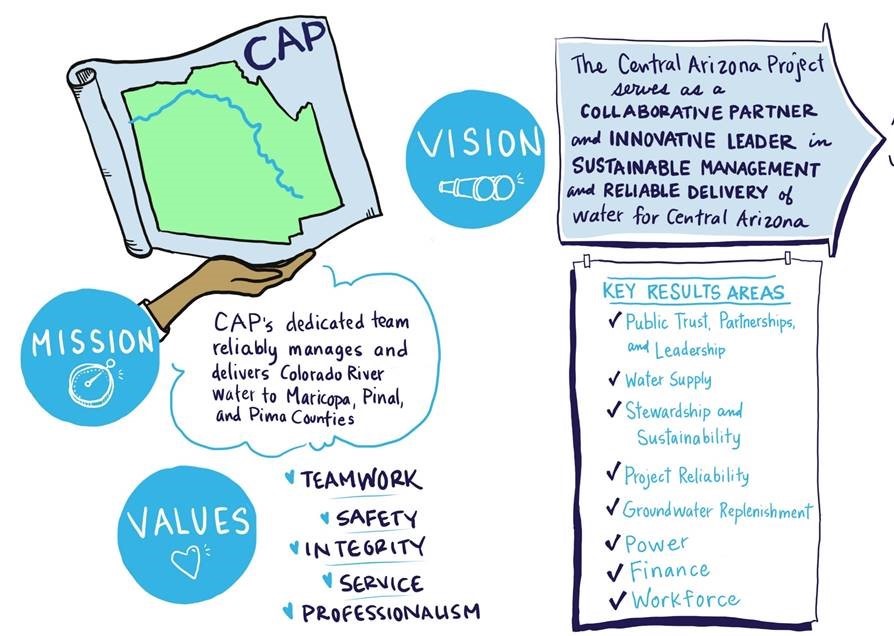 Here are some of the Plan highlights:
Vision — CAP serves as a collaborative partner and innovative leader in sustainable management and reliable delivery of water for Central Arizona
Mission — CAP's dedicated team reliably manages and delivers Colorado River water to Maricopa, Pinal, and Pima Counties
Values –
Teamwork: Working together to reach consensus and achieve common goals
Safety: Keeping coworkers and the workplace safe
Integrity: Doing the right thing with consistency and dedication
Service: Caring for the needs of stakeholders, coworkers, and our community
Professionalism: Delivering superior results
There are also several identified Key Result Areas (KRAs), which direct priorities for CAP employees to begin or continue working on in 2022. These KRAs are:
Finance
Groundwater Replenishment
Power
Project Reliability
Public Trust, Partnerships & Leadership
Stewardship & Sustainability
Water Supply
Workforce
The Board's Strategic Plan serves as the context for many other planning activities at CAP, including the biennial budget, organization-wide objectives, employee performance goals and Board reports. As part of CAP's two-year budget process, CAP staff will use the new Plan to build operational business plans to ensure that organizational goals and efforts are consistent with the strategic direction provided by the Board.