Editor's note: Julie Mazo joined CAP's Human Resources Department (HR) in August 2019, bringing more than 10 years of military and civilian HR experience. 
Julie Mazo is one of the first to meet new employees at CAP.  As a human resources assistant, she greets all new employees on their first day with a warm smile and welcoming spirit. For Mazo, it's not just a work persona; it's truly who she is. She celebrates differences and believes the best teams include people who have different perspectives and experiences.
Mazo is a third generation Phoenician. She is the eldest of four children and was raised in a multi-generational home by her mother and grandmother. She fondly recalls constantly being surrounded by family.
"I come from Hispanic and Asian backgrounds and both cultures are pretty connected by family where multi-generational homes are not uncommon," says Mazo. "In the neighborhood where I grew up, my grandmother was on the corner, cousins were immediately next door and my mother's godmother lived across the street, so there was literally family all around us. I was lucky in that regard."
Despite family support, her youth was not always easy. She had a strained relationship with her mother. Her grandmother, who was her primary caregiver, passed away when she was 12. She didn't know her father until she was a teen. And, in school, most kids were African-American or Hispanic, which made it difficult for Mazo, who, although she identifies as both Hispanic and Filipino, looked more Filipino.
"I stuck out like a sore thumb," Mazo said. "It's hard to deal with; there was a lot of mockery."
But she did deal with it, and after graduating from high school, Mazo went to community college, but struggled to take it seriously, so she started working. She decided she needed a change, so at 21, she joined the Army, a decision that she said was really good for her at the time. She met her then-husband and had two daughters. The Army trained her in human resources, a field in which she flourished. However, after four years of active duty and another two in the guard, she realized she didn't want her daughters to have a transient lifestyle and chose to leave the Army.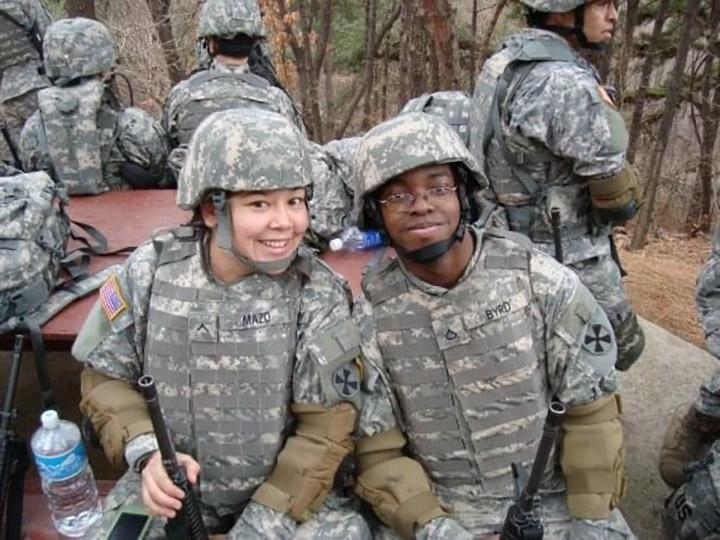 She returned to Arizona to continue her HR career.  During that transition, she realized her marriage was not successful and filed for divorce.  She would later grow her family, but not in the traditional sense. In October 2016 she married her wife, Desiree, and together they have a multi-generational home, which includes Mazo, her mother-in-law Georgette, wife Desiree, daughters Amelia and Olivia, and Goddaughter Rene.
"Most people are surprised that my mother-in-law lives with us, but she is just another branch of our family tree and I feel fortunate to have her," said Mazo. "Our Goddaughter has a strained relationship with her mom, and since I know how that feels, we wanted to step in and provide her some much-needed stability. Family is what you make it." 
It's no surprise that with Mazo's background and spirit, she was compelled to join CAP's Diversity & Inclusion Team (D&I) shortly after she started at CAP. She knew her unique experiences, perspectives and contributions could have a positive impact on her new CAP team.
The D&I Team vision is to have a diverse and high performing workforce that promotes opportunity at all levels of employment and is an inclusive work environment where differences are welcomed and embraced. The team hosts lunch & learns, shares diversity content, encourages breadth of thought and conversation and strives to be make everyone know they're part of a team. Mazo is at the forefront of those efforts.
"For me, being a female veteran, living in a multi-generational home and being a member of the LGBTQ community is normal. But it brings with it a lot of experiences and identities that give me a unique perspective," said Mazo. "I want to provide the opportunity for all of our workforce to share their unique perspective at work in a welcoming environment."