The story below is built around a recorded interview. The full oral history may be viewed here.  |  En Español »

John Newman didn't dream of a career in maintenance. When he returned to college after a stint as a Green Beret, he was eager to finish his degree in civil engineering. The Utah native, upon a suggestion from his mother, applied for a job at the Bureau of Reclamation while he was still in school.
They snapped him up, and he found himself juggling the part-time work with full-time school, not to mention and a wife and young child. But he enjoyed the work – computer modeling of the Colorado River — so when he graduated in 1974, he stayed with Reclamation, working full-time in the Salt Lake City office in river control.
During the next few years there were monumental events, including the huge water years of 1983-85.
"We had way too much water, and we just couldn't handle it," said Newman. "I remember visiting Glen Canyon Dam and watching chunks of concrete fly out of the spillway and we had to decide whether to shut it down because we were afraid it would fail."
In 1985, Newman decided he needed a change and took a position with Reclamation in Durango, Colorado. He worked as chief of water operations while there and had his first experience with a maintenance program.
"We were finishing a water project called Dolores, and I was tasked with helping them put together their maintenance program," said Newman "We were building this staff from the ground up, from basically nothing to a fully functioning maintenance department."
Life was good. Then a call came. Would he be interested in an operations manager position in Arizona, with Central Arizona Project? It was exactly what he'd done in at the Dolores Project – getting a water district staffed up and ready to assume maintenance operations – but it was Arizona, and it was hot. But it was a challenge he accepted.
He moved to Arizona and continued to work for Reclamation until the mid-1990s, when CAP offered him a position as assistant general manager for planning. While in that role, he did strategic planning, oversaw the newly created Central Arizona Groundwater Replenishment District (CAGRD), and built recharge projects. Yet, maintenance was in his blood.
At CAP, the maintenance program was in its infancy and when an initial maintenance assessment was done by a consultant, the results were not good. Newman saw an opportunity and a need.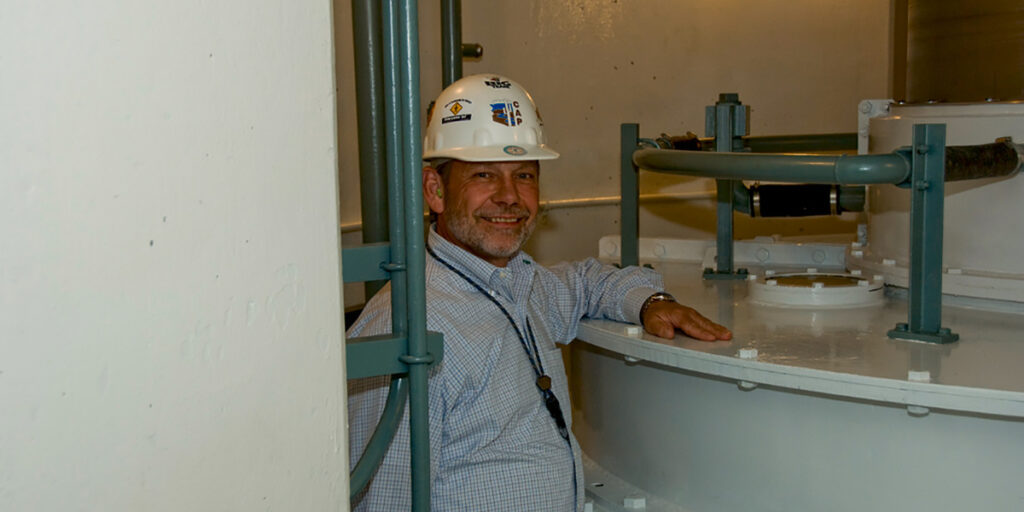 "I thought this was a real opportunity for me to get back to what I had done before," Newman said. "Planning's not my bag. I wanted to sink my teeth into pumps and motors again."
He had an idea – well, many ideas. They centered around a concept called maintenance excellence and a belief that working safely had to be at the core of everything. He started with safety, ensuring that all employees had the equipment and personal protective equipment to do their jobs safely. That they felt empowered to speak up, participate in the process and express their concerns or ideas.
"This is an organization of people," said Newman. "And what makes this place work is the people in it. It's not management, it's not the equipment, it's about the people."
His efforts started to change the safety culture. So, he pushed harder on the maintenance program. He focused on planning work and managing equipment, not simply reacting to unexpected outages. Crews were streamlined, data was collected and work was focused on ensuring equipment did not fail. It may seem obvious now, but in the infancy stages, this approach was cutting-edge, and within four years, the maintenance program that originally had an abysmal assessment was now considered top-notch.
In the end, Newman's vision and efforts transformed CAP, leaving a legacy. CAP's maintenance program continues to be one that others in the industry study and emulate. Its safety program ranks among the best, proudly earning status as a Voluntary Protection Program site.
"Coming to the maintenance side of CAP was one of the best things I ever did and was the best job I ever had," said Newman. "I really loved it."
Newman retired from CAP in 2010.