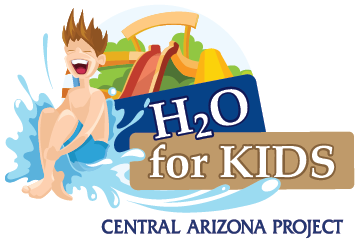 Wondering what you can give your students or kids to keep them engaged and learning? CAP's free online educational materials may be just what you need!
CAP collaborated with Arizona educators to develop the materials, which are divided by grade level. These FREE materials teach our youth about the importance of water and how they can help preserve our most precious natural resource…engaging AND educational.
H2O for Kids has engaging lessons and fun activities for students in kindergarten through fifth grade. The content is aligned to the current Arizona Science and Social Studies standards, integrating English/Language Arts, and explores questions such as:
How did the ancient Hohokam canals make it easier to collect water?
How does water travel miles through the CAP canal to reach central and southern Arizona?
How is Arizona's water supply connected to other states?
How have people in Arizona modified or adapted to the Arizona climate?
Arizona Water Story is a designed for students in grades 4-6. The program includes a six-lesson teacher's guide and a three-part video.
H2O4U is an educational activity for middle school and high school students. H2O4U combines learning with fun, including lessons on the Colorado River, water conservation, water safety and careers in the water industry. An online computer game gives students the opportunity to test their river mapping skills, complete challenging water math problems, answer questions to complete a crossword puzzle and even stay afloat in a river rafting game.
Nonfiction Reading Passages give students an opportunity to learn about the importance of water in Arizona through short, engaging worksheets.
Whether you're a teachers looking for supplements to your online curriculum, or a parent trying to engage your kids quarantined at home, download CAP's educational materials here.