The future of Arizona's water resources is on a lot of people's minds right now – especially as we face deeper levels of shortage on the Colorado River and changing supplies under hotter and drier climates. Evaluating future water supply and demand can be challenging and requires large-scale technical studies with collaboration across all sectors including municipal, industrial, agricultural, environmental and tribal.
In response to the 2009 Secure Water Act, the Bureau of Reclamation established the WaterSMART (Sustain and Manage America's Resources for Tomorrow) program. The program serves as a framework for Reclamation to work with local stakeholders to assess the sustainability of regional water supplies within key regions of the Western United States. These assessments are referred to as "Basin Studies" and apply the best available science to evaluate potential water supply and demand imbalances under a variety of future conditions. Basin Studies serve as the basis for water resource managers to make policy decisions, develop infrastructure plans and seek additional supplies.
Arizona's Basin Studies
To date, Reclamation has awarded three Basin Studies within Arizona. These studies focus on specific watersheds within each of the state's Active Management Areas (AMAs):
Each study seeks to: 1) project future supply and demand; 2) assess the impacts of supply and demand to the regional aquifer system; and 3) develop strategies to address impacted areas. Differences in sector demands and supply availability (e.g., Colorado River water from CAP, in-state surface water, groundwater, reclaimed water, etc.) result in a unique set of future challenges for each area of study.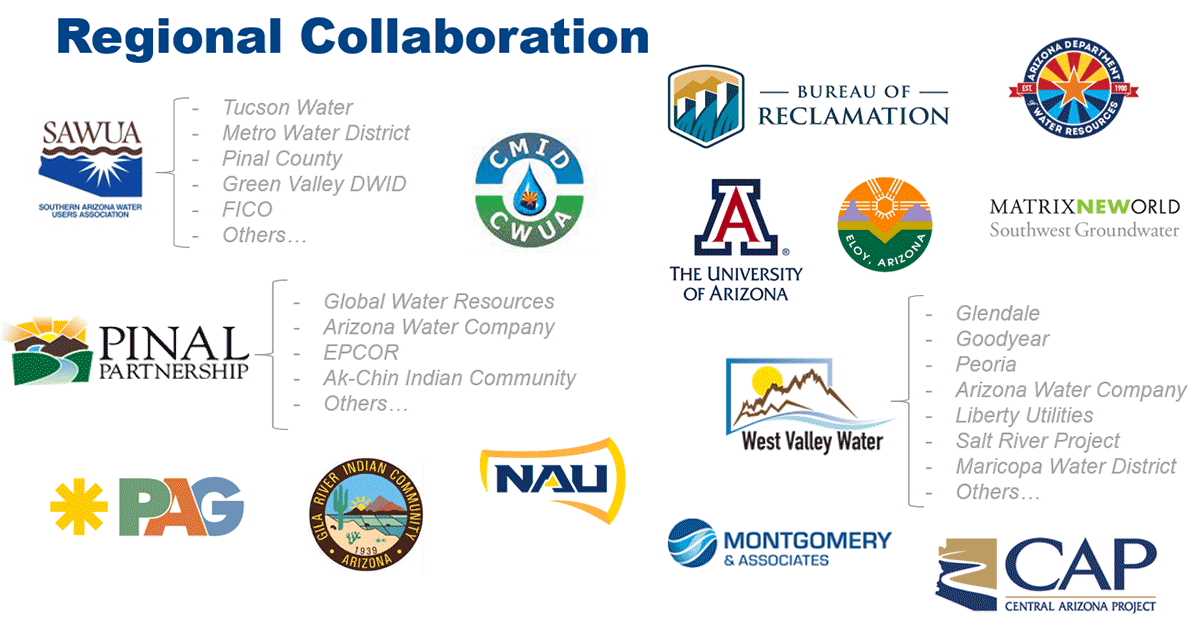 CAP's support for Arizona's Basin Studies
CAP's support and involvement is critical to these studies. CAP has used its proprietary model, CAP Service Area Model (CAP:SAM) to generate projections of future supply and demand. CAP:SAM is a complex computer model designed to evaluate a range of future growth and climate conditions and the impacts to water resource managers.  
Results from Arizona's Basin Studies have already provided several valuable insights:
For the West Salt River Valley and Lower Santa Cruz Basins, assumptions about the location of future growth have a large impact on total water demand and where potential groundwater drawdowns may occur due to increased groundwater pumping.
In all future scenarios, the agricultural sector is anticipated to make up for lost supplies by pumping additional groundwater in the Eloy and Maricopa-Stanfield Basins.
Climate change impacts water resources more significantly than population growth in the Lower Santa Cruz River Basin.
There is no silver bullet – but there are viable adaptation and mitigation strategies at the local and basin-wide scales. When combined, these can be used to address future challenges.
Work on these studies has been ongoing since 2014 with each one at a different stage of completion. Strong, ongoing support and engagement have been critical to getting these studies across the finish line. They are a model for regional collaboration and serve as the blueprint for managing the sustainability of Arizona's water resources today and into the future.
Interested in learning more? Visit CAP's Regional Planning Efforts web page.