By Chris Brooks, CAGRD Policy Analyst
Sometimes, you have to modify the original plan. That is exactly what happened with the Liberty Aquifer Replenishment Facility.
In 2014, CAWCD (on behalf of the CAGRD) and Liberty Utilities entered into an innovative public-private partnership to develop a recharge project within Liberty's West Valley water and sewer service territory.  The recharge project, completed in 2017, was financed in part with capital from CAGRD but constructed and operated by Liberty. In return for CAGRD's investment in the facility, Liberty agreed to a long-term lease for 2,400 AF per year of reclaimed water that CAGRD would use to meet its replenishment obligations in the area.
Prior to the opening of what was originally called the Liberty Aquifer Replenishment Facility, Liberty was disposing of treated wastewater by delivering it to an irrigation district in the Buckeye area more than ten miles to the west.  Liberty, which provides water to several CAGRD member land subdivisions, was seeking a more sustainable option – something benefiting the aquifer that provided drinking water to their customers.  Unfortunately, in its early years of operation, the facility did not perform as expected – only recharging approximately 25% of the volume of water it was designed for.  This led Liberty to research and eventually construct modifications to the facility that have currently resulted in greatly improved recharge performance.
The re-christened Sustainable Effluent to Aquifer Project (SEAP) that began operation in 2020 contains modifications to one of the four original basins – using a series of trenches and borings in the basin bottom to facilitate greater recharge below a low permeability layer that was discovered beneath portions of the facility.  These modifications have roughly doubled the functional recharge capacity of the facility – allowing it to recharge nearly all of the CAGRD leased water.  Future work to add trenches and boreholes to a second basin at the facility should allow Liberty to recharge nearly all of the reclaimed water produced at its Palm Valley Water Reclamation Facility in the SEAP in future years.
Liberty modifications to basin #3 (see photo)
Installed 8 equally spaced trenches in basin bottom; 200' long, 4' wide, 10' deep
Each trench has 5 equally spaced boreholes; 40' deep, 4' diameter
Trenches lined with geotextile material to prevent infiltration of fine sediment
Boreholes and trenches backfilled with gravel
4-inch PVC pipes deliver reclaimed water to each borehole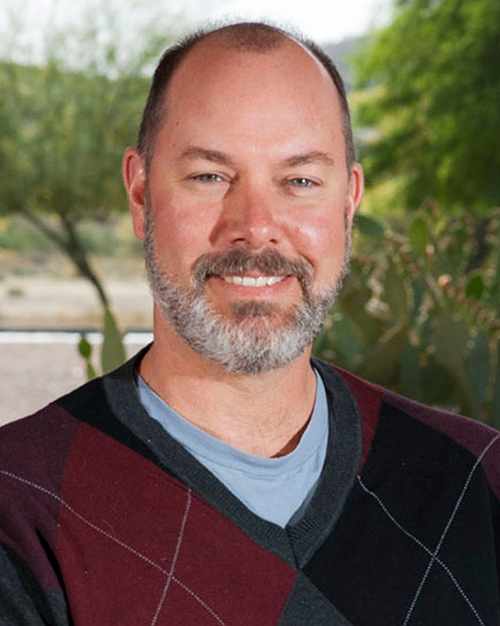 Chris Brooks is a Senior Policy Analyst with the CAGRD where he works primarily on water supply acquisitions to support CAGRD water replenishment activities.