Much has been written about the impending Tier 2a Colorado River shortage for 2023. But how does that affect the Central Arizona Groundwater Replenishment District, which was created in the early-1990s to help water providers and land owners comply with Arizona's groundwater management laws by replenishing groundwater supplies?
Until a few years ago, CAGRD primarily used CAP water that was "unordered" each year by CAP subcontractors. This was commonly referred to as excess CAP water. Due to the Colorado River shortage, this supply has been eliminated in recent years in accordance with CAP's priority system.
Does this affect the water available for CAGRD to meet its replenishment obligations?
Shortage does affect CAGRD, but perhaps not as much as you might think
CAGRD's water supply program was created more than a decade ago with the goal of reducing and eventually eliminating CAGRD's reliance on excess CAP water supplies. Since then, CAGRD has acquired a number of CAP supplies through leases, exchanges and reallocation as well as acquired drought-proof supplies for use when CAP's wet water supplies are unavailable. CAGRD is also focused on pursuing new water supplies available in times of shortage. 
Here are the specifics for how shortage affects CAGRD's water supplies:
CAP's Non-Indian Agricultural (NIA) supplies, which make up 65% of the current supply portfolio are most susceptible to shortage. They were reduced in the 2022 Tier 1 shortage and will be eliminated in the 2023 Tier 2a shortage. Other CAP supplies in the portfolio may also be reduced in deeper levels of shortage.
In 2022, much of the NIA supply would be unavailable were it not for the mitigation resources included in the Drought Contingency Plan. It's likely that mitigation will be reduced or eliminated until it ceases altogether – regardless of shortage level – in 2025.
Ongoing discussions related to additional reductions of Colorado River supplies could also reduce other CAGRD supplies of CAP water in future years.
CAGRD has taken many steps to prepare for shortage
For many years, CAGRD has been preparing for having less CAP water. The following steps have all been taken in recent years to diversity CAGRD's water portfolio:
Acquiring Long Term Storage Credits (LTSCs) – The existence of a robust, predictable market for LTSCs has allowed CAGRD to acquire significant assets that can be relied upon to meet replenishment obligations for almost 20 years in the Phoenix Active Management Area (AMA) and even longer in the Tucson and Pinal AMAs – even under severe shortage conditions.
Accumulating Replenishment Reserve Credits – Every 10 years, as part of its mandatory Plan of Operation, CAGRD sets a target for LTSCs that should be maintained as a reserve of water supplies. The Reserve Target for each AMA is equivalent to 20% of the difference between the total 100-year replenishment obligation for that AMA and the total volume of long- and intermediate-term water supplies planned to be used to meet the obligation. As of 2021, CAGRD's Replenishment Reserve account has 250,000 credits in the Phoenix AMA, 5,800 in the Pinal AMA and 40,800 in the Tucson AMA.
How will CAGRD continue to prepare for the future?
CAGRD's water acquisition program is currently focused on securing additional water supplies that are less susceptible to reduction under Colorado River shortage conditions. These supplies would be used to replace supplies that are reduced during prolonged shortage or to provide additional water supplies to meet future replenishment obligations.
LTSC purchases will remain an important part of CAGRD's water supply acquisition, as a drought-proof and affordable supply.
CAGRD will continue to forecast and monitor the potential shortage impacts to existing water supplies and finances. The focus will be on the wise use of resources to meet replenishment obligations at the lowest cost for our members and to continually acquire new supplies for future obligations.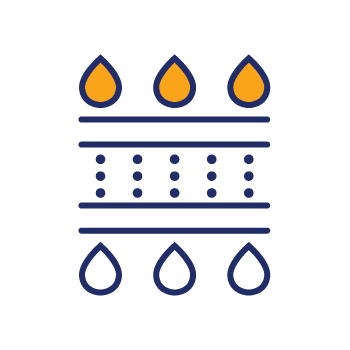 KRA: Groundwater Replenishment
Fulfilling CAP's groundwater replenishment responsibilities in accordance with statutory requirements